Prelude Coming to Terraforming Mars on Steam December 8th
Good news for Terraforming Mars fans, at least those in the digital realm!
The boardgame app which has been controversial, derided, had the developer shut down, and now is a fairly decent app, may now be getting even better as of December 8.
Asmodee Digital has announced that the Prelude expansion will be coming to the Steam app on that date. The mobile app has it in beta testing still, so maybe it will also make the 8th?
It's hard to tell.
One knock against the app has been that it was only the base game. It took them a while to add card drafting, though it was cool when they finally did.
But Terraforming Mars really comes into its own when you bring some of the expansions into it, especially Prelude.
What does Prelude give you?
How about cards at the beginning of the game that give you a bit of a boost and maybe a guide to what strategy would be good to implement this game.
Look at that Nitrogen Shipment card above! Get one Terraforming Rating (a point but also an income) along with Plant production and 5 Megacredits? That's pretty cool.
At the beginning of the game, you get 4 Prelude cards which you get to choose and play 2.
The expansion also adds 5 new corporations and 7 new project cards, and also a new solo challenge and a "wild" tag, which can be any tag you need it for on your turn.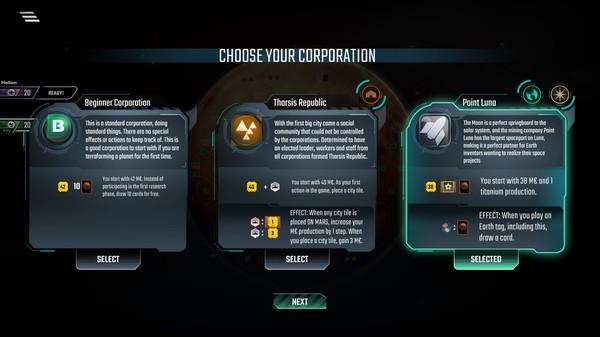 The expansion is also modular, in that you can just use the corporations and cards if you want. Or you can use the Prelude cards as well.
Being a big fan of the game, I wouldn't play it without Prelude anymore. It just adds so much to the game.
Which is one reason the digital app didn't really grab me as much as it might have.
Now they just need to fix a few of the issues with the app.
Like how you have to choose your cards in order, even when you're not drafting.
Right now, you can choose your cards, but it won't "take" if you do it ahead of time. Once the players in front of you have chosen their cards, you will have to choose yours again.
This is really annoying for asynchronous play.
However, I am looking forward to giving the digital implementation of Prelude a whirl!!!
You can wishlist it now on Steam and keep an eye out for it on iOS/Android when it finally arrives.
No word on price, but I'll update this post when I do find out.
Are you going to be checking this out?
Let me know in the comments.